Consecration
The sisters of the Community pronounce vows of chastity, poverty, and obedience. They commit to a personal and deep intimacy with Jesus Christ, their Bridegroom, and to love of neighbor, that they may love one another with Christ's very own love.
Contemplation
The celebration of the Holy Eucharist is the source and summit of each day. Our intimacy with Christ also grows daily with an hour of silent personal prayer before the Blessed Sacrament, the Liturgy of the Hours, Lectio Divina, and a devotion to the Virgin Mary expressed through a consecration  and the Rosary. The sisters also seek to live in a disposition of continual prayer, listening to the Holy Spirit in all circumstances.
Communion
Contemplation leads to a joyous and luminous fraternal communion and "considering others better than ourselves" (Phil  2:3). The sisters seek to be rooted in and grow in love. They deepen their relationships and share meals and outings with the Community. In their relationships, they aim for simplicity, forgetting themselves as they seek the good of others through dialogue, forgiveness, and reconciliation.
The sisters also strive for an authentic fraternal communion with the brothers and the lay members of the Community.
Mission
The sisters' consecrated life is their primary testimony. Apostolic works have their source in this union with God, and they are rooted in the spirituality of the Beatitudes. These various missions include hospitality, medical mission, compassion ministries, evangelization, catechesis, chaplaincy, and other requests of the local Church. The sisters collaborate with the members of the Brothers' Branch and the Lay Branch in a spirit of communion and zeal. Each sister offers her respective competencies and gifts, such as leadership, teaching, accounting, cooking, music, etc.
The Religious Habit
Wearing a religious habit is a powerful sign that manifests the sisters' witness to the world. The habit can have a striking effect and is intended to express  the coming of the Kingdom which the sisters proclaim.
"I renounce the world, its life, and its ways, I renounce myself in order to be attached to You alone, the one Treasure of my life on earth…"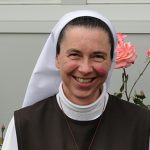 Sr. Claire Sandrine
Born in Grenoble, I entered the Community aged 23. When I was confirmed at the…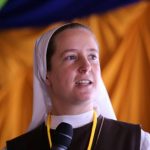 Sr Eva of Jésus
I'm Austrian and have been in the Community of the Beatitudes for 22 years. Before…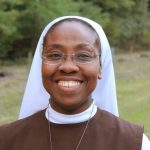 Sr Thérèse of the Holy Face
My name is Sr, Thérèse of the Holy Face (a reference to the face of…